MC JUPITER-9 85mm f/2 portrait lens w/Sonnar style bokeh
FREE SHIPPING NATIONWIDE!
Soviet  clone of German CARL ZEISS SONNAR 2/85, with its distinct bokeh, smooth step-less aperture control with 15 blades.
Jupiter-9, quite compact and fast portrait lens in m42 mount(Zenit, Pentax, Practika etc) – will work on modern DSLRs as well as mirrorless systems: Sony NEX, Olympus Pen, Panasonic G, Canon EOS M, Nikon 1, FujiFilm XE-1 etc.
Aperture stops are set continuously, without clicks, which is great for videographers.
The 15 curved blades form round opening throughout the whole range, resulting in smooth pleasing bokeh(out of focus part of image).
Jupiter-9 85mm f/2.0 lens comparing to kit zoom lenses

Jupiter-9 is vintage soviet fast fixed focal length(prime) lens, in high demand nowadays for their fast aperture(f/2), which opens up a world of possibilities for photographer – selective focusing, low light photography, great portraits with vintage feel and distinct bokeh courtesy of Carl Zeiss Sonnar formula in use; for their ability to be mounted on various camera systems via affordable and easily available adapters.
15 curved blades of aperture is more then usual zoom lens will have, providing nearly round opening at all aperture settings.
Mount: m42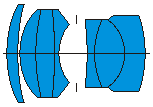 Focal length: 85mm
Aperture range: 2.0-16
Aperture blades: 15
Close focus: 0.80m
Lenses/groups: 7/3
Weight: 400g
30/18 line per mm optical resolution
(center/edges)

The lens s/n 8820687 is in excellent near mint condition!
Lens barrel has nearly no visible signs of use/age on lens barrel.
Glass is clean and clear – has no fungus, no haze, no scratches.
Might have faint wipe marks/ few internal dust particles may also be present, but will not have any effect on photos.
Mechanics are excellent – focus is smooth and uniform.
Aperture blades are free from oil.
Comes in it's case with front lens caps + documents.
Optics:  ★★★★★
Mechanics:  ★★★★★
Appearance: ★★★★★
Overall:  ★★★★★
Payment options are:
– BDO deposit
– PayPal(credit cards)
– bitcoin
THIS ITEM SHIPS FOR FREE WITH XEND.
We guarantee that the item in this ad looks and works as advertised and offer money back guarantee on this.